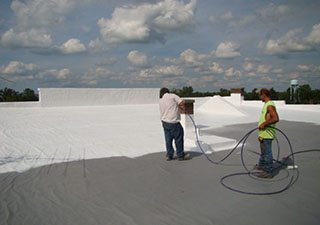 Finding the right commercial roofing contractor for your roofing needs shouldn't be a chore. If you are in Kalamazoo, MI or the surrounding cities, Empire Contractors is the company you can depend on. With over 20 years in the industry, we have seen it all and can help with whatever your roofing needs are. Give us a call today at (231) 861 – 7221 to get one of our experienced team members out today.
Our team takes great pride in being the area's leading commercial roofing company. We understand that you should only have one roofing contractor for all of your roofing needs and as a full-service commercial roofing company, we offer it all. From roof inspections to roof replacements, we are ready to help you with whatever roofing issues you are dealing with.
Wide Range Of Commercial Roofing Contractor Services
As a full-service commercial roofing company, there isn't a roofing issue we can't handle. We offer the following commercial roofing services:

Roof inspections
Roof installation
Roof repairs
Maintenance
Leak detection
Roof restoration
Roof coatings
Roof replacements
And more!
Starting with a roof inspection, our team will always provide you with a thorough report of what is going on with your roof. We believe that staying informed and ahead of any repairs is always the best option. This helps guarantee that you can stay on top of any issues before they turn into large, costly repairs. If you are worried about the condition of your roof, or don't know what condition it is in, reach out to us today and we will get you taken care of.
Many people replace their commercial roofs before it is necessary, simply because they have not been informed there are other options. While we are always happy to do a roof replacement when it is the best option, roof coatings are a great service that we not only offer, but very frequently recommend to our clients. They can extend the life of your roof and help make it more energy efficient. Your roof is a huge investment and we want to help you protect and maintain it for as long as possible.
Call Us Today!
For any of your roofing needs, you can count on Empire Contractors to get the job done! We are the top commercial roofing contractor in the Kalamazoo, MI area and look forward to helping more clients get their roofs in the condition they deserve. Give us a call today at (231) 861 – 7221 and we will get someone out quickly to answer any of your questions!