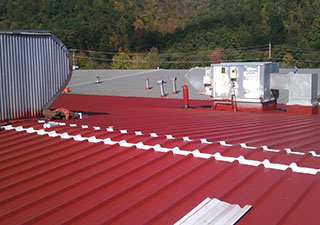 Even if your commercial roof is in great shape currently, it's always a good idea to have the number of a dependable commercial roofing contractor. The condition of your roof can change quickly, be it from a storm, ice, ponding water, or another problem and that's why it's important to have a reliable roofer at the ready to help. With Empire Contractors, you can be certain that whatever your roof needs, our expert roofers will get things taken care of quickly so that you can get back to trusting your roof. We know that your roof is the first line of defense your building has against weather and other hazards and if your roof has been compromised, the integrity of your building could be at risk. Whenever you call on us, we will make sure our roofers get out to you quickly to assess any damage or needs of your roof. We take care of things quickly but effectively and we're proud to offer long lasting, affordable solutions and services to our customers in Holland, MI. We're always here, whether you have a roof in need or have questions or concerns, just give us a call at (231) 861 – 7221.
Any Roof, Any Service
At Empire Contractors, we've worked hard to make sure every roofer we have is professionally trained with a full range of services and roofing systems so that we can always provide you with the finest services around. No matter the type of roofing system you have, we will get it the specialized care it needs to last for years. Each roofing system requires certain care depending on the material and we've got the knowledge to handle it all. With our complete list of services, we are truly a full-service commercial roofing company that can be your go to for all things involved with commercial roofing and we're always just a phone call away.
Reach Out Today!
When you need a full-service commercial roofing contractor in Holland, MI, turn to the team at Empire Contractors and you'll never have to worry about being directed towards another company. We work on all types of roofs and handle services of all kinds and will never outsource a job which means you will always be getting the help of our professional roofers. Get the confidence you need to be worry free about your commercial roof, reach out today at (231) 861 – 7221.