Selecting the right commercial roofing contractor for your next project is a crucial decision that can greatly impact your building's functionality and overall appearance. Empire Contractors is a distinguished company in Charlevoix, MI. Our team understands the importance of providing reliable services. Our crew of seasoned professionals has the right skills and knowledge to help you. To get started, call us today at 231-861-7221!
What to Look For
To begin with, your contractor's experience is a vital factor to consider. Not all roofing systems are the same; they can differ in their materials, installation methods, and maintenance procedures. Contractors with a broad range of experience are well-versed in handling different roofing types and situations. Thankfully, our team has a solid track record in the industry, which showcases our ability to manage a diverse array of commercial roofing projects.
In addition, a top-notch commercial roofing contractor exhibits professionalism at all times. They are punctual, respectful, and ensure that all your queries and concerns are addressed promptly and satisfactorily. We value our clients and are committed to providing an exceptional customer experience, keeping your needs at the forefront of our operations.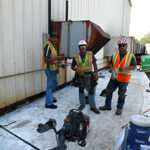 Insurance is another essential trait. This protects you against potential liabilities that could occur during the project and cause a wide range of problems. We hold comprehensive insurance coverage, providing our clients with peace of mind, knowing that they are protected.
Moreover, transparency is a crucial trait of a reputable contractor. They should provide a clear and detailed estimate and maintain open communication throughout the project. We practice this transparency, providing all necessary information up front to help clients make informed decisions.
Finally, quality workmanship is a non-negotiable trait. A top-notch contractor uses high-quality materials, adheres to industry standards, and guarantees their work. Our crew is dedicated to delivering superior quality workmanship, ensuring that each roofing project we undertake stands the test of time.
Contact Us
Finding the right commercial roofing contractor for your project may seem daunting. However, the team at Empire Contractors in Charlevoix, MI, makes the choice easy! With our experienced team, we are here to help you. Thanks to our professionalism, comprehensive insurance, transparency, and high-quality workmanship, you can trust us to provide high-quality results. Reach out to us today at 231-861-7221 for all your roofing needs. We are eager to work with you!