There may be many commercial roofing companies taking on new jobs in Grand Haven, MI, but we're very confident that the team at Empire Contractors is still the top choice. Our company has been around for over twenty years now and we are still going strong. Get in touch with us today at (231) 861-7221 to schedule a free onsite roof evaluation.
Top Materials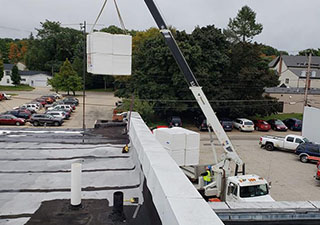 At Empire Contractors, we truly care about the longevity of our clients' roofs. That's why we use only high-quality roofing materials. There are many factors that play a role in how long a roof lasts, and certainly the quality of the materials used on a roof is one of the bigger factors.
Of course, the company that you elect to take care of your roof probably plays the biggest role of all. Empire Contractors has a qualified team of insured and licensed craftsmen who never take shortcuts. We do efficient and professional work for each project we are hired for. Additionally, our quality customer service makes it quite easy to work with us.
Our Services

Regardless of the service that your roof requires, you won't need to worry. That's because the roofing specialists at Empire Contractors do it all. When your roof has a leak or some other type of issue, we'll begin by inspecting your roof to get a thorough understanding of what's going on.
We've been in this business for quite some time now and we've repaired all types of commercial roofs. The Empire roofers are also very familiar with roof restoration. We can apply a roof coating to your roof which will improve its condition and also make your building more energy-efficient.
Call Us Today!
When searching through commercial roofing companies, it's best to hire a crew that handles all types of roofing services like we do here at Empire Contractors. This way, you know who to call whenever your roof needs a repair, replacement, etc. We've maintained a solid reputation in Grand Haven, MI and we look forward to taking on more jobs in the area. To get a free quote on your commercial roof, give us a call today at (231) 861-7221.