Rubber roofing is a unique niche in the roofing community. Not all roofing companies know how to properly handle a rubber roof repair. To have your rubber roof repaired by the best company for the job, contact Empire Contractors today! If your building is in Dowagiac, MI, or the surrounding area, call us at (231) 861-7221.
Do You Need a Rubber Roof Repair?
Rubber roof leaks can happen from punctures or even old age. As rubber ages, it becomes brittle, making it easier for water to seep through. Punctures can be caused by flying debris, tools being dropped on it, or even small rocks. It is important to schedule regular inspections for your rubber roof to detect these issues and repair them quickly.
Once the membrane is compromised, it is no longer water-tight. This puts your building and inventory at risk of developing water damage.
Benefits of a Rubber Roof
There are many benefits to a rubber roof. For example, a rubber roof is lighter than other roofing materials. It also comes in a variety of styles.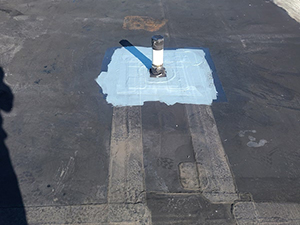 In addition, rubber is a naturally fire-resistant and chemical-resistant material, affording your building even more protection. A rubber roof installation is easier than that of a traditional roof, due to its light weight and ease of application.
However, one of the greatest benefits that is often overlooked is its ability to reduce sound. Due to its composition, rubber can capture vibrations from the exterior, reducing the noise you hear inside. This helps you and your employees focus on your job, translating into a better experience for your customer. This is all very beneficial to your company!
Regular maintenance and repair work means your roof can continue protecting you. All of this combined with a rubber roof's ability to reduce your cooling costs makes it a great investment for building owners!
Call Us
A rubber roof is a great way to help your business. Hiring Empire Contractors to manage your rubber roof needs will let you focus on your business. We are here for the commercial building owners in Dowagiac, MI! If you would like more information on our rubber roof services, call us today at (231) 861-7221. Our customer care team can answer any questions you have and schedule a consultation as soon as possible.