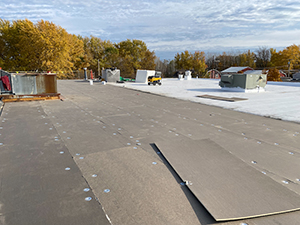 Does your commercial building need a flat roof replacement, or can a restoration help it stay strong for longer? It is difficult for a layperson to know which option to choose. Instead of guessing and hoping you are right, call Empire Contractors. We will help you determine what your commercial roof really needs. If your business is in St. Joseph, MI, call us today at (231) 861-7221.
Flat Roof Replacement or Restoration?
We usually recommend a roof restoration before replacing it. If it is obviously past that point, due to age or severe weather, then we would focus on replacing your roof. Typically, a roof is replaced once during a person's lifetime. However, sometimes it can be more frequent. For example, maybe you bought an older building or a strong storm came through and ripped the roof off your building. These things happen when we least expect them, so having a roofing company you can turn to in these times is crucial.
A restoration service is less expensive, and can help your roofing system last years longer. However, the roof must be a good candidate for a restoration. Failing that, a flat roof replacement can be the only financially feasible solution to your commercial roofing problems.
Leave It To Us
Unless you have a background in construction and know the current building codes and regulations, we strongly urge you to leave it to the professionals. We have the expertise in flat roof replacement and know the codes. We are also up-to-date with all the state regulations. This way, your roof will be up to code, and we will have the proper permits in place before starting any work on your commercial roof. Having everything in place before we start allows for a smoother replacement. To ensure you receive the best flat roof replacement, we only use the best materials.
Contact Us First
Instead of worrying about your commercial roof, call us. We can help you when things go wrong. Flat roof replacement is not something you should attempt on your own. Let Empire Contractors shoulder that responsibility for you! If your commercial building is in St. Joseph, MI, you can trust us to manage your roof maintenance for you. Contact us today at (231) 861-7221.