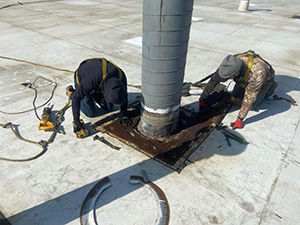 As a commercial property owner, your building is vital. After all, you have most likely invested a large amount of money and time to make sure it is in top condition. An integral part of your building is the roof, which is your main line of defense against the elements. Flat roofs, with their sleek design and space optimization, have become a favorite option for property owners. However, they come with their unique set of challenges. Thankfully, the team at Empire Contractors in Kalkaska, MI, is available to provide top-notch flat roof repair services. Building owners across the area continue to count on us. Call us today at 231-861-7221 to get started!
Warning Signs

The streamlined design of flat roofs, while architecturally appealing, can sometimes lead to water accumulation. Prolonged water retention can damage your roof and lead to leaks. If you notice any signs of leaks, you need to act quickly to avoid further damage.
Detecting Problems
Water Accumulation: If there is standing water on your roof for over 2 days, this is usually a sign of damage. This is a major issue, so don't ignore it. Call our team to help!
Surface Bubbling: The presence of bubbles or blisters are another danger sign which often points to moisture trapped beneath the roof's surface. This is another issue that can lead to further damage if left unchecked.
Visible Tears: This is probably the easiest sign of damage to notice. Even small cracks can allow water to enter, leading to extensive damage.
Maintenance Strategies
Regular Inspections: Scheduling regular inspections can prevent minor issues from developing into significant problems.
Good Drainage: Keeping the roof's drainage paths clear ensures no water accumulates. A subtle slope can further aid water movement.
Quality: While keeping costs in check is vital, never compromise on quality. After all, superior materials offer longer protection.
Experts: Flat roofs pose challenges that are best left to the professionals. Their specialized knowledge can help you avoid issues.
Contact Us
Here at Empire Contractors in Kalkaska, MI, we understand that each building and roof are unique. That's why we offer tailored solutions to your particular situation. Thanks to our rich legacy of serving building owners in the area, you can be sure we have the right answers for you! Our team is skilled in providing flat roof repairs, ensuring your building is sheltered and efficient. We promise a roofing experience that is like no other! To get started, call us today at 231-861-7221.