Does your commercial building need a rubber roof repair? Our team at Empire Contractors delivers effective rubber roof repairs quickly for commercial building owners in Portage, MI. Call us at (231) 861-7221 right away in order for us to help you with your rubber roof.
Detection of Roof Leaks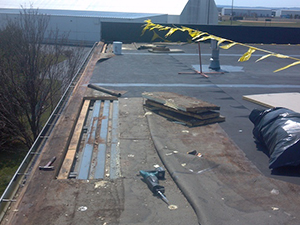 When a rubber roof leaks, locating what is causing the leak is the first step to an effective and long-lasting repair. Let us know if you are ready for a thorough inspection of your rubber roof. During this inspection, our skilled workers will look for leaks in every part of your roof so that we can accurately diagnose and fix them right away.
Our team has a lot of experience working on rubber roofing systems. With all of this experience, we know how to locate and solve a variety of common rubber roof issues. These issues include cracks and punctures to the membrane itself, as well as fixing seam separation. Regardless of what issues your rubber roof has, our seasoned craftsmen can and will fix them all without hesitation!
Cost-Effective Solutions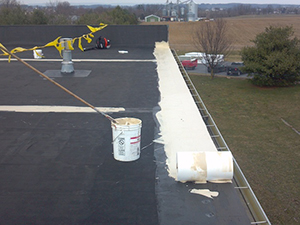 At Empire Contractors, we are all about trying to find the most cost-effective custom roof solutions to save you money. A roof restoration, for example, can improve the condition of a roof, helping you avoid paying for the materials and labor that are required for a full roof replacement. If you would like the best deal that is also done correctly for your commercial roof's needs, just give us a call!
Why Empire Contractors?
Empire Contractors presents many benefits for the commercial owners of Michigan. We do commercial roofing the right way with our team of insured, licensed, and dedicated roofing specialists! On top of our quality artisanship, we provide exceptional customer service and are always relied on for our transparency and fast response times. Furthermore, we always keep the prices for our first-class roofing services low, making them budget-friendly!
Call us today!
Empire Contractors is here to assist the commercial building owners of Portage, MI with all their roofing needs! If your commercial building requires a rubber roof repair, please contact us today at (231) 861-7221 so we may resolve the problem in a timely manner. In addition to roof repairs, you can depend on our roofing technicians for any other roofing needs your commercial roof may have!