Are you seeking roof coating specialists in Waterford, MI? If so, the seasoned roofers of Empire Contractors are your best bet. For over 20 years, we have been providing top-of-the-line roof coatings to the residents of Michigan and we intend to stay on this track for the foreseeable future. Our roof restoration services are aimed to save the money of our clients and provide them with lasting solutions; a roof coating is no different in that regard. Not sure whether or not your commercial roof needs a coating? Well, just get in touch with us at (231)-861-7221, and with our all-encompassing roof inspection, we can let you know!
A Solution that Works for You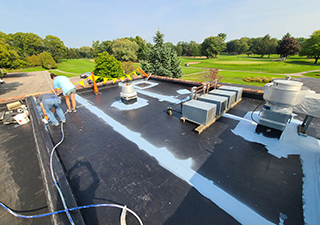 When your commercial roof starts showing signs of wear and tear, there are two debatable ways you can approach the problem. The first one is getting a roof coating while the second one involves a wholescale roof replacement. As honest roofing technicians who have seen the ins and outs of plenty of roofing problems over the years, we always recommend you to opt for a roof coating unless a roof replacement is an absolute necessity.
A roof coating is quite inexpensive in the face of a roof replacement and causes little to no disruption to your business premises, meaning that your business activities can continue unhalted. Furthermore, a roof coating makes you fully water-tight so you can say goodbye to all those recurrent water seepage issues. Also, thanks to the reflective nature of a roof coating, the internal of your commercial building remain at a cooler temperature, which in turn, causes a reduction in your energy bills.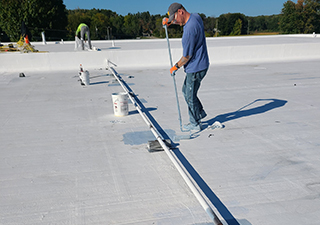 Last but not least, roof coatings are particularly known for their ability to add an extra of at least 10 years to the life span of a commercial roof.
Unparalleled Customer Service
We have built a name for ourselves in the industry due to consistent dedication and hard work. Apart from the first-rate craftsmanship of our roofing technicians, we utilize only the premium roofing materials in the market in a bid to provide you with a roof you can confidently rely on season after season.
Contact Us Today!
If the roof of your commercial building in Waterford, MI could use a roof coating for better performance, feel free to reach out to Empire Contractors at (231)-861-7221 any time you would like!