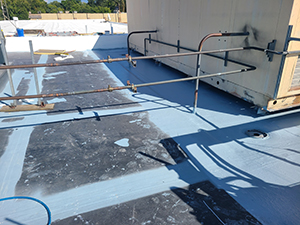 When a building requires a new roof, it's the perfect time to hire Empire Contractors. Our experienced roofing specialists will install your new flat roof correctly and at an excellent price. To have your building's flat roof replacement completed correctly, get in touch with our roofing specialists today at (231) 578-4760.
Roof Inspections
Having a roof looked at by experienced roofers will help ensure that it stays in great condition. With the thorough roof inspections that we provide here at Empire Contractors, your flat roof will hold up for a lot longer and experience fewer costly problems. After you hire us to replace your flat roof, you can use us in the future for roof inspections and maintenance.
Roof Coatings

Why replace a flat roof if there are cheaper and very effective alternatives? At Empire Contractors, we will take a look at your flat roof to see if it can be restored. Our team uses roof coatings to extend the lifespan of flat roof systems. If you would like to explore this solution, get in touch with us today to set up an inspection.
Flat Roof Experts
Empire Contractors has a team of roofing technicians with many years of experience working on flat roofs. When a commercial building in the state of Michigan needs a flat roof replacement, we are the lead option. Our flat roof experts will undoubtedly install your building's new flat roof the right way!
Why Empire Contractors?
There are a lot of reasons to go with the experienced crew at Empire Contractors. Our superior craftsmanship, customer support, and fair prices makes us a tough company to compete with! We will have your roofing projected completed correctly and on time so that you can put your building's roof issues behind you!
Call Us Today!
When you are prepared to hire a roofing company for a flat roof replacement in Montague, MI, Empire Contractors is the lead option. If you would like to see an estimate on the project, just get in touch with us today at (231) 578-4760. After we replace your flat roof, you can depend on our team for years down the line with roof inspections, repairs, and restoration!