If you need a commercial roofing contractor for your project in Marshall, MI, then the team at Empire Contractors is your leading option. Our high standards of craftsmanship and customer support help set us apart from our competition. Call us today at 231-861-7221, and our qualified specialists can schedule your inspection and provide the solutions you need!
Proven Commercial Roofing Contractor
Our team has built a superb reputation in the state of Michigan, and we look forward to showing you why. We offer a wide range of commercial roofing services at competitive prices. In addition, our skilled crew has many years of experience and incredibly high quality standards.
Roof Inspections
Performing thorough roof inspections is one of the major responsibilities of a commercial contractor. These inspections allow your contractor to detect issues in a timely manner, so you can address them before they worsen. Our specialists also offer thorough roof leak detection services. We will always find the best solution for your roof's issues!
Roof Restoration Services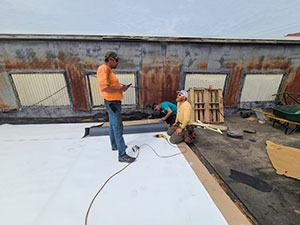 A roof coating can be a great way to restore many different types of commercial roofs. Our experts can recognize when your commercial roof could benefit from a new coating. We'll apply a seamless coating to protect your roof and prevent leaks for many years to come.
Fast Response Times
An effective commercial roofing contractor should consistently offer quick response times. Our team always responds quickly when our customers need urgent solutions. We understand that some problems can't wait.
In addition to quality craftsmanship and great prices, our company has developed an excellent reputation for our dedication to our clients. We want to exceed your expectations! Come see for yourself why so many in the state choose us.
Call Us Today
If you are looking for a commercial roofing contractor, it's important to do your research before making a choice. You want to find the best team for your particular situation. If you are in Marshall, MI, your first choice should be Empire Contractors. Our reputable team is prepared to solve your roofing problems. For exceptional commercial roofing services, call us today at 231-861-7221! We look forward to working with you.