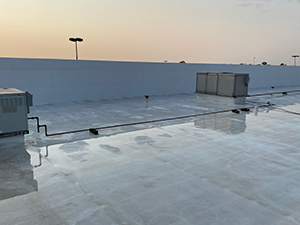 While owning a commercial building, there are a lot of things that you cannot get a return on. Your roof is one of the few things you can get a return on. To ensure you do get a return on your investment, you need to make certain that you are keeping up with the maintenance program. Speaking of roof inspections, they are always the first thing in any type of maintenance plan that comes to mind. Thankfully for you, if your industrial or commercial building is based in beautiful Kentwood, MI, you can count on Empire Contractors for just about any roofing service, including a thorough roof inspection. Reach out to us at (231) 861-7221 for more details!
The Timeless Benefits of a Roof Inspection
Roof inspections are conducted in order to detect any issues with a roof so that the roofers can conduct the appropriate solutions promptly and keep things from getting out of hand. At Empire Contractors, our roofing specialists specialize in a thorough roof inspection service. We ensure that our roof inspections, as well as all our services, are done at reasonable prices.

When you contact us, our well-known craftsmen will set out for the location you give us right away. No matter the service you have requested from us, our roofing specialists always begin by conducting an in-depth roof inspection that covers every nook and cranny of your roof. That way, we can detect the actual causes of concern. So, when we are done with your roof, you will be able to rely on it with confidence that it will last for years to come.
Extraordinary Repairs and Restoration
With the outcome of the roof inspection, there is always an estimate that goes over our findings as well as what repairs are needed or restoration methods we recommend. No matter what the situation is, you can rest assured that only the best work will be done.
Call Us
If you have been delaying the inspection of your roof for any reason, it is time to get it done. If your commercial building is in Kentwood, MI, reach out to Empire Contractors for a detailed roof inspection at a fair rate. Our contact number is (231) 861-7221!