It is important for property owners to find a commercial roofing contractor that can complete jobs quickly and correctly. It is also important to do your research before you hire any company. If you are in Dowagiac, MI, then Empire Contractors is the choice for you! Our skilled craftsmen can resolve your roofing problems. Call us today at (231) 861-7221 to learn more about the services we offer.
Doing Research
If you own a commercial building, you need a contractor that will take excellent care of it, allowing you to focus on your business.
You can start by compiling a list of commercial roofing companies in your area. Next, you should talk to other building owners. They can share the companies they use, as well as which ones they try to avoid. All this will help refine your list.
After this, you should visit each company's website to learn more about them. Look at their industry experience, track record, the services they offer, and any customer reviews. You can then call each company to talk to them. You can get a good sense of how the company works by how they engage with you. If you don't feel comfortable with one, then cross them off your list!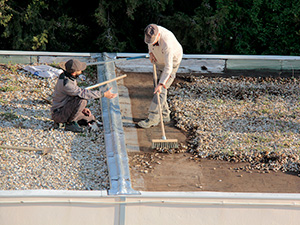 After this step, you can request a roof inspection. When this is completed, they will give you an estimate for your particular job. Thoroughly review each estimate in order to make your final decision.
We encourage you to be wise and take your time when choosing your company. After all, commercial roofing services are vital to your business.
Here at Empire Contractors, we strive to provide high-quality and long-lasting roofing services to our valuable customers. We complete the job correctly the first time, saving you time and money.
Call Us Now
After you do your research, you will realize that we are the best choice for your roofing needs! We have decades of experience maintaining commercial roofs. Read our customer reviews to understand how we work. Empire Contractors in Dowagiac, MI, is the right choice for you. Call us today at (231) 861-7221! Our customer care team will answer any questions you may have.