For many, your house is one of the largest investments you will make and a durable roof is the first step in protecting it.  It only makes sense you want the best, most affordable and reliable care for your home. This is why we offer quality residential roof repair and replacement services for our valued clients. We stand behind our work and only use our own employees. 

At Empire Contractors, we proudly serve the great state of Michigan. Contact our office to learn about the programs we have in place to ensure your roof is worry-free and will provide years of protection for your home. You can reach us at (231) 578-4760.
Residential Roof Repair Services
Leaks are the leading cause of problems with residential roofs. After assessing your roofs situation our team of experts will determine the best course of action to provide long-term solutions. There are several things that can be the cause of roofing troubles and our technicians will not settle until your roof is correctly repaired.
With Empire Contractors, you will never have to wonder if you made the right choice. We have formally trained technicians that are committed to providing Michigan with first-class roofing repair services. We understand that we are working on your home and will work quickly and efficiently to limit disruptions to you and your family.
To learn more about the repair services we have to offer please call us at (231) 578-4760. We would be happy to schedule an appointment to inspect your roof.
Residential Roof Replacement Services
When it comes time to replace a storm-damaged or worn out roof, Empire Contractors residential roof replacement team can help. Our technicians provide the best value in roof replacement services in Grand Rapids, Michigan and all the surrounding communities.
Our experienced team ensures that every new roof is built to supply years of protection. There are several roofing options for your home and we will take the time to assess your roof, discuss your vision and work within your budget to re-roof your home. Let's work together to find a roof that will look beautiful and offer the protection your home requires.
For more information regarding our residential roof replacement services, you can reach us at (231) 578-4760. We hope to hear from you soon!
Empire Contractors Difference
We have worked diligently to become the go-to contractor in Michigan.  We have become this by having the following credentials: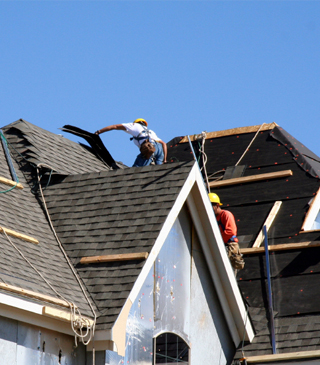 Licensed and insured
20+ years of experience
Spotless safety record
High-quality materials
Specially trained technicians
Clean workspaces
Highest respect for your home and belongings
Large variety of roofing applications
Emergency response team
Claims assistance
Open lines of communication
Let our team put our 20 years of experience to work for you and your home. Your house, our adventure. With Empire Contractors you are never just another roof, you are a valued customer. We look forward to providing you comprehensive residential roofing services.
Call us today at (231) 578-4760. Let us find the best way to improve your roof.